︎MANMADE MOUNTAINS ARE NOTHING BUT STREAMS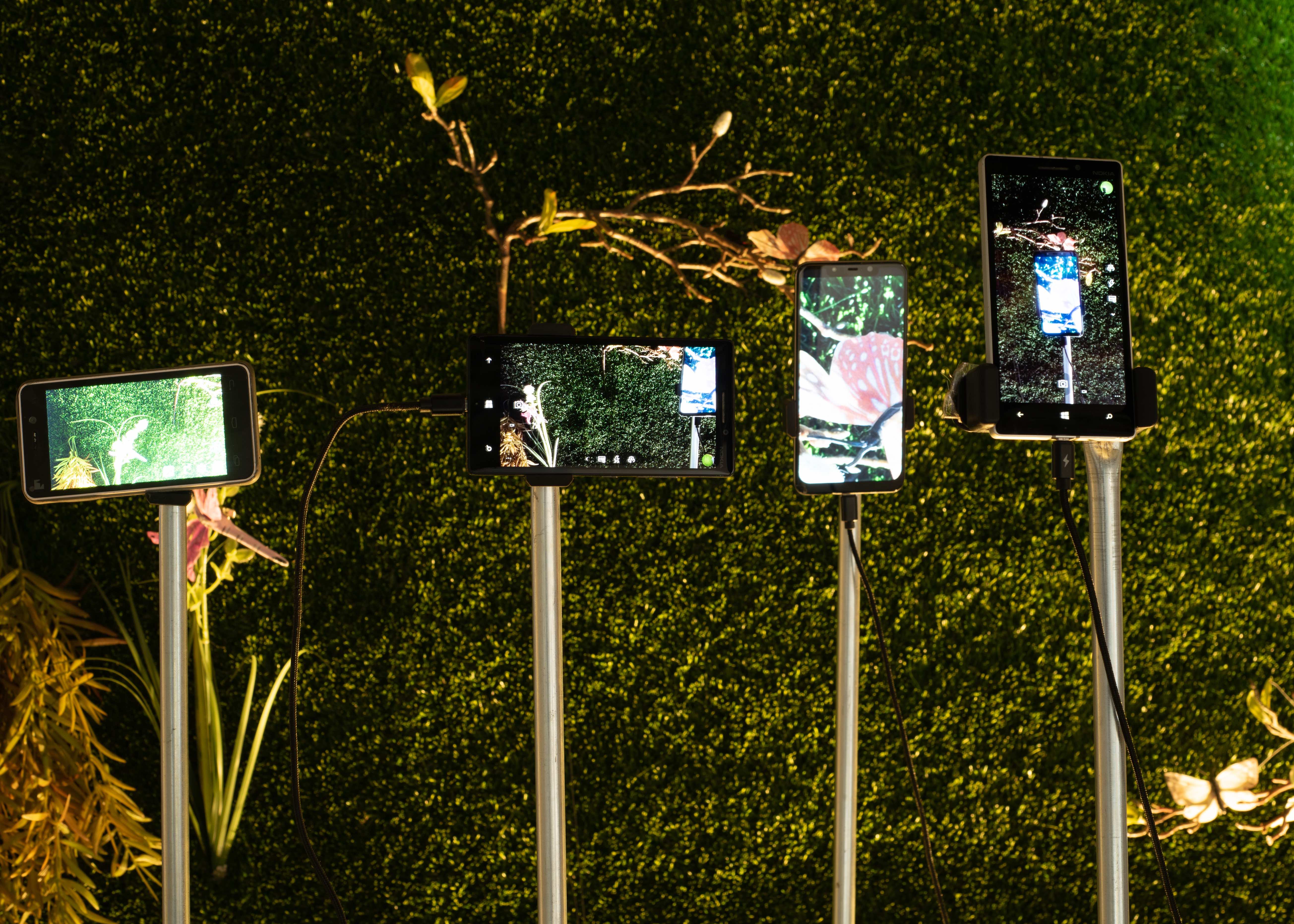 Manmade Mountains Are Nothing But Streams 2021
Made possible with support from Gemeente Utrecht

An installation work that combines elements of technology and nature to question and highlight the relationship between the two.

Manmade mountains are nothing but streams focuses on our use of technology and how we view the world around us differently as a result. In particular, the invention of the cell phone has changed our view of the world. The ability to take pictures of anything at any time gives us the chance to frame the world around us the way we like to see it. Manmade mountains (…) focuses on this phenomenon by questioning how our view of nature has changed with the development of cell phones.

Seven cell phones continuously observe a wall covered with artificial grass on which artificial butterflies find their home. The phones form a frame around the work and, as it were, put focus on seven spots of the work. Every now and then a butterfly moves and a phone zooms in to make this movement observable. Manmade mountains (…) points viewers to the relationship between cell phones and nature by showing how the mobile camera represents nature around us only as we like to see it.

By placing an artificial "nature" under the lens of the mobile camera, Manmade Mountains (…) questions our own relationship with nature. Don't we romanticize nature too much through the pretty pictures we see on the Internet? What is real nature apart from our own sense of nature? Is a desire for a simpler life (more in touch with nature) still possible now that we have merged so far with our technology?

Manmade Mountains Are Nothing But Streams 2021
Mogelijk gemaakt met support van de Gemeente Utrecht

Een installatiewerk dat elementen van technologie en natuur combineert om zo de relatie tussen beide te bevragen en in het licht te zetten.

Manmade mountains are nothing but streams focust zich op ons gebruik van technologie en hoe we daardoor de wereld om ons heen anders bekijken. Met name de uitvinding van de mobiele telefoon heeft onze kijk op de wereld erg verandert. De mogelijkheid om op ieder moment van alles foto's te kunnen maken geeft ons de kans om de wereld om ons heen te kaderen zoals we deze zelf graag zien. Manmade mountains (...) focust zich op dit fenomeen door te bevragen hoe onze kijk naar de natuur verandert is door de ontwikkeling van mobiele telefoons.

Een kunstgras beklede muur waarop kunstmatige vlinders hun huis vinden wordt continu geobserveerd door zeven mobiele telefoons. De telefoons vormen een kader rondom het werk en leggen als het ware focus op zeven plekken van het werk. Af en toe beweegt een vlinder en zoomt een telefoon in om deze beweging observeerbaar te maken. Manmade mountains (...) wijst toeschouwers op de relatie tussen mobiele telefoons en natuur door te laten zien hoe de mobiele camera de natuur om ons heen alleen representeert zoals wij die graag zien.

Door een artificiële "natuur" onder de lens van de mobiele camera te plaatsen bevraagd Manmade Mountains (...) onze eigen relatie met de natuur. Romanticeren wij de natuur niet teveel door mooie foto's die we op het internet zien? Wat is de echte natuur los van ons eigen besef van de natuur? Is een verlangen naar een simpeler leven (meer in aanraking met de natuur) nog wel mogelijk nu we zover zijn samengesmolten met onze technologie?